Wyoming university slogan about cowboys triggers race, gender debate
Laura Zuckerman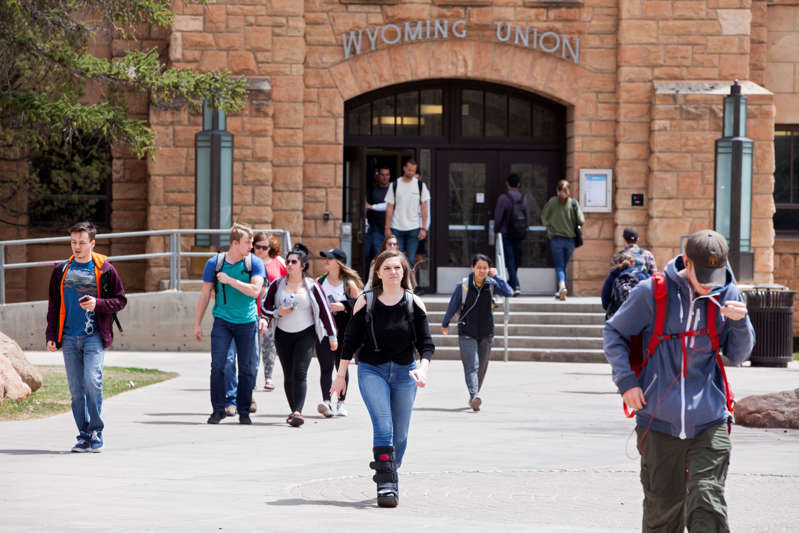 © Melanie Stetson Freeman/The Christian Science Monitor via Getty Images LARAMIE, WY - APRIL 30: Students walk across campus between classes at the University of Wyoming, on April 30, 2018 in Laramie, Wyoming. UW is a land-grant university, founded in March 1886 and opened in September 1887. The University of Wyoming is unusual in that its location within the state is written into the state's constitution. (Photo by Melanie Stetson Freeman/The Christian Science Monitor via Getty Images)
A marketing campaign adopted by the University of Wyoming in Laramie centered on the slogan: "The world needs more cowboys" has run into trouble as faculty members and Native American groups say it excludes women and people of color.
The motto was to be featured in promotional materials sent to prospective students, but complaints about its message, from a campus with a diverse, 12,000-strong student population, prompted the school's board of trustees to take up the issue this week.
The state's flagship college said the tag line anchored a broader campaign showing images of people of different races and genders.

"In a vacuum, the term 'cowboy' appears gender and perhaps race specific but in the context of the branding campaign it is connected to images and words that show our cowboys are diverse, of every sex and background," university spokesman Chad Baldwin said.

Darrell Hutchinson, cultural specialist with the Northern Arapaho Tribe in Wyoming, said the slogan implied that people who do not fit the stereotypical image of a cowboy – a white man with a wide-brimmed hat riding the range on horseback – are not welcome.
"If you're not a white person and especially if you're an Indian, it would make you feel out of place - it wouldn't make you feel too good about yourself," he

said...…
…..ASSHOLES....ALL OF THEM...
READ MORE